Sponsored By
The Greater Mission Bend Area Council
Supported By
Member HOA's & GMBAC Business Partners
________ ♦ ________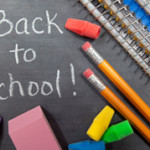 _________ ♦ _________
Saturday, August 1, 2015
 New Life Baptist Church
10:00 am – 1:00 pm
6403 Addicks Clodine Rd
****
Help Fill a BackPack
Howdy Neighbors…. 
Thanks to the generosity of the Mission Bend area Homeowner Associations and area businesses, we will once again be giving away free school supplies at a Back 2 School event.
The Greater Mission Bend Area Council will be distributing basic school supplies to Ft. Bend and Alief ISD students living in the Mission Bend Area.
If you have something you would like to donate, it can be dropped off (click here for locations) or please send an email to information@gmbac.com so that arrangements can be made to pick it up.
Businesses and Community Organizations who support GMBAC by donating school supplies or funds will be listed on the GMBAC Website.  We want to encourage Area residents to support those who support us.
We will need volunteers again this year to help distribute the school supplies.  We had a fantastic response last year!  Please contact us at information@gmbac.com if you are able to help.
_____________ ♦ ____________ 
Other Area Back2School Events 
Free Immunizations – August 1, 2015
Grace Christian Fellowship Ministry
15825 Bellaire Blvd.
Click on Flyer Below for Details
**********
Alief Community Health Fair
The Alief Community Health Fair will be held on Saturday, August 1, from 9:00 a.m. to noon at Hastings Ninth Grade Center (6750 Cook Road).  School supplies and backpacks are available while supplies last, and a school-age child must be present.
Free immunizations will be available for those age 4-18, and the parent must bring the child's shot records. Immunizations will be provided for those who have Medicaid, have no private insurance, or have insurance that does not cover immunizations. View the flyer (English/Spanish).
**********
YMCA Operation BackPack
YMCAs across the Greater Houston area are gearing up to provide school supplies for children in our communities so they can start school with the tools to be successful.
**********
Free Back to School Vaccinations
Offered By
Children's Museum of Houston
Committed to creating a community of healthy children, Texas Children's Mobile Clinic Program will administer back-to-school vaccinations to the first 200-children to arrive every Thursday Free Family Night in August.  To qualify, parents and guardians will need their child's immunization records.  All required school vaccines will be provided.  No need to pre-register.